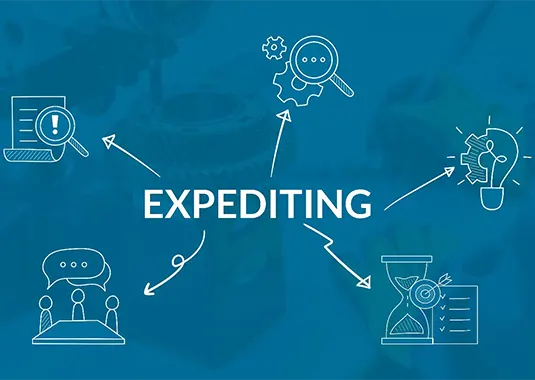 News: The need to keep individual supplies under control in order to guarantee the achievement of the quality standards set by the company has, over the years, assumed ever greater importance.
In cases of complex orders, the monitoring of project progress programs, entrusted to individual suppliers, allows the customer not only to avoid inefficiencies, but also to incur penalties in the context of contract management.
The expediting activities of Punto Netto, in line with current regulations, consist precisely in monitoring the progress of a given purchase order and aims to ensure that suppliers comply with the order's requirements, in terms of delivery times and quantities supplied, through constant and punctual reminder actions.
Punto Netto operates in compliance with the specifications received from the customer and according to a schedule agreed with the supplier and customer, sending the latter, at the end of each check, the expediting report, a detailed written report, accompanied by photographic documentation, capable of certify the checks and controls carried out and any reports of criticality on the quality of the production and on the delivery times of the supply.


WHAT PUNTO NETTO EXPEDITERS DO
Thanks to an operational network of highly qualified inspectors, Punto Netto is able to intervene in the major Italian and foreign plants by activating a network of expediters who, over the years, have gained extreme expertise in the Metalworking sectors, in general, and in the Automotive sectors, Renewable Energy and Precision Mechanics, in particular.
The goal of Punto Netto's extensive and punctual expediting activities therefore consists in examining in depth all phases of the supply, suggesting possible constructive solutions in order to respect delivery times and, lastly, promptly and adequately inform the customer about the real situation of the progress of the order.

The task of the Punto Netto expediters, therefore, is to monitor the progress of the production process at the supplier's home, closely follow the progress of the order, verify its quality and compliance with the required requirements and compliance with the fixed deadlines.
Only by accompanying the production in all these phases, our expediters are able to ensure that the requested products arrive on time, in the factories and with the required quality characteristics.
Expediting activities, precisely for this reason, must absolutely be carried out in real time in order to provide proactive responses and actions to particular situations at the same time they occur.
However, it can often be difficult to be on site and check all the suppliers in factories around the world. Hence the need to rely on local expediters with in-depth knowledge of the raw material procurement, production and logistics processes. Profiles that perfectly adhere to the skills acquired over the years by the Punto Netto team.